Nothing is recorded yet. It's my day zero. I sit on my bed with a laptop, the camera is off. I am about to start. I've been preparing this course for so long, the whole idea, a robust tool... I did workshops, consultations, I did retreats, and now I want to put it all together, online. That's my new challenge. That's what I want to deliver.
To make this course a valuable product for you I first had to introspect. I believe that before sharing any techniques or concepts of beneficial introspection one has to do it regularly him or herself.
How do I actually feel about it? Am I comfortable in my body? What is my mood? What does really drive me to do it? Is it a genuine desire for sharing of what I believe is valuable or is it my clingy wish of being heard? Am I trying to fill my emptiness or am I just doing my job?
Everything can be introspected. From the most trivial everyday thing to the most subtle esoteric nuance. Introspection serves us to figure out the motivation and the purpose behind everything we do.
Take a look at this introspective algorithm flowchart – an explanation of which you will find in one of the videos available in the preview (and do not get discouraged if do not like diagrams, that is the only one. Tap or click it to enlarge):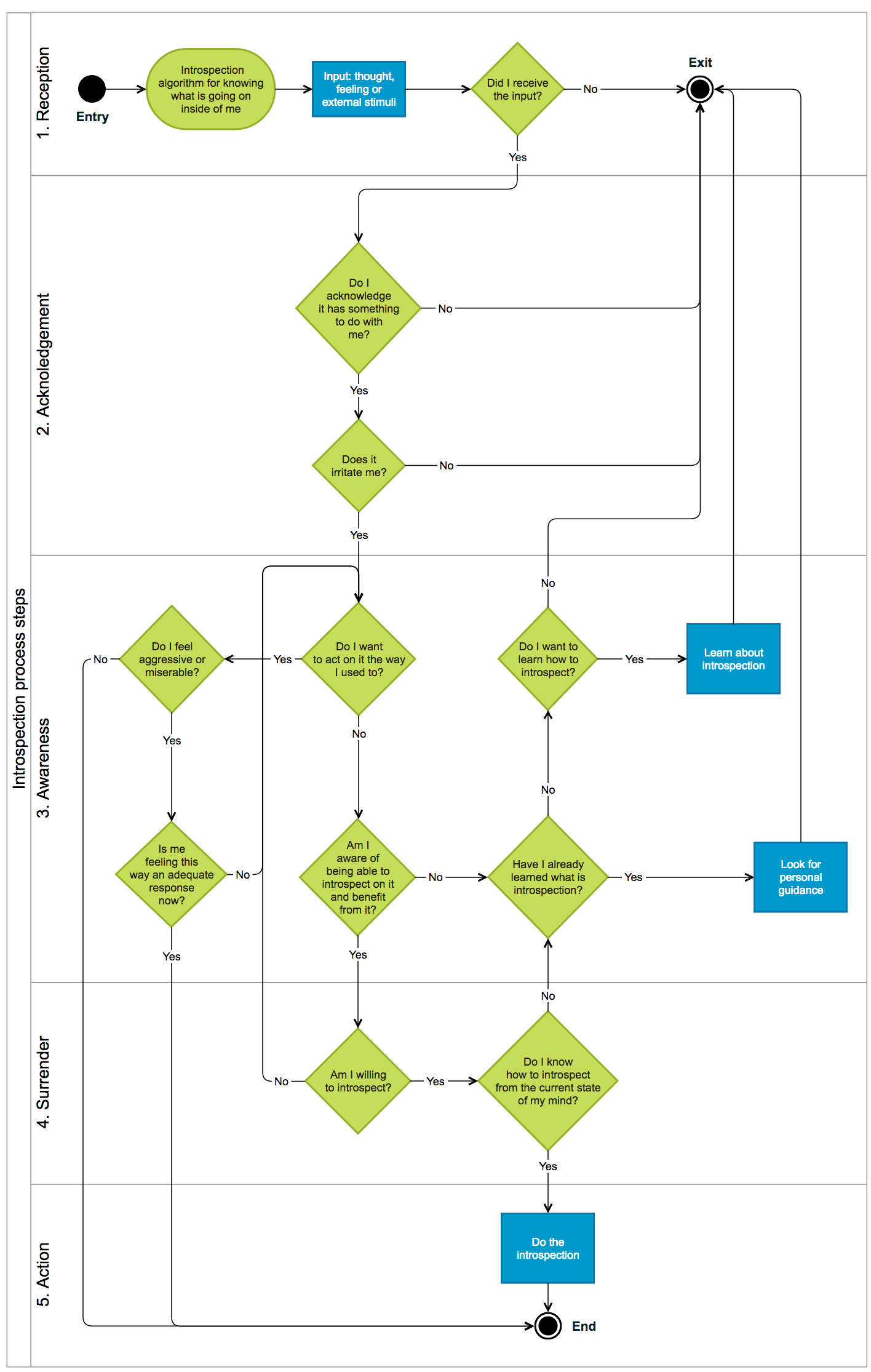 In short, this is how it works: Introspection can be done only by oneself. And the thing is that either you do it by choice or life will push you to make that choice. To look within is inevitable. But even if you go for it, there are many possibilities to get stuck in the process. And this is why, as I got stuck many times during my last seven years of this practice, I want to share with you both the approach and the techniques for these moments where introspection becomes really uphill.

Being terrified is often a habitual response to the cruelty of the world that keeps us cosy in our little world of impotence.

In this course you will be presented ideas, benefits, techniques and examples, as well as the hygienic approach and inspiration for an introspective process. It is aimed to slowly improve your everyday dealings with your own mind and with the people around you.
Introspection relates to happiness. The method discussed here – introspective writing – can help you to articulate what keeps you away from being happy and engaged in a loving exchange with those you care for.
Introspection is one these things that cannot be done for your self by someone else, just like digesting and sleeping. Similarly there is nothing indulgent in a moderate meal or a well taken rest.
Whatever you believe your self to be: an abstract spirit, flesh and bone, or both, or none of them, that is up to you. This course will help you to both question and connect more with what you deeply identify with. It is all about giving you the tools for self-exploration so that you can increase your awareness in your daily life.
As mentioned earlier, this course encourages you to be involved. You can suggest the topics of the introspection and develop your own specific techniques. When I started doing this course I did not know exactly where it will take me, and now I am even more curious about where it is going.

So I'll start recording now...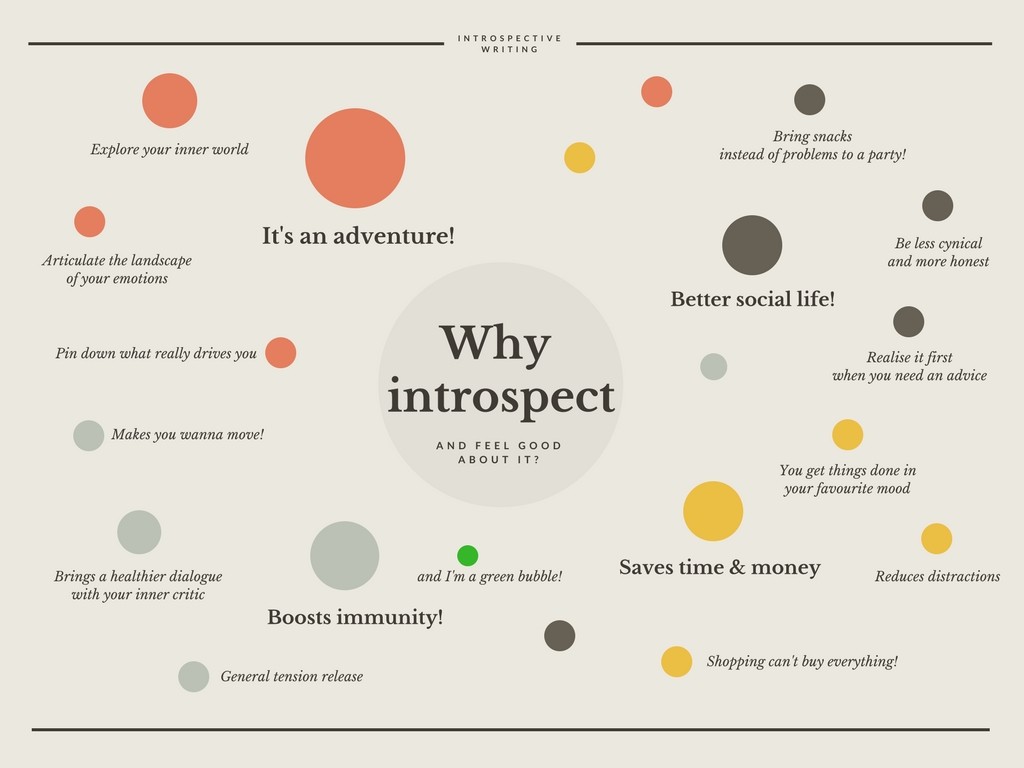 This course is delivered to you as an encapsulated journey. It brought me some significant benefits which I could not anticipate before embarking on it. By offering it as a well-packaged product, I believe it will facilitate such findings for you.
It may sound silly but it also motivates me. Travelling, meeting teachers, studying for months in remote places... Now I want to deliver it back to my culture. I met other "translators" while travelling and I am pretty much sure we have a lot in common. This kind of spark, or profile.

In this course you will learn nine techniques of introspective writing. Each of them is described by its usage, matching emotions, steps, example, and the expected outcome. As a bonus, I also shared one technique given to me by my therapist (as our sessions and my homework were happening during the time of preparation of this course).
Every video on the techniques has its practice and theory notes. There are plenty of short quizzes and at the end of each section you will find a set of introspective questions. You will also be given a handful of links to inspiring materials from other sources. The emotions wheel chart is also attached here and explained.
Anymore more? Yes! There is also a whole session with a career adviser recorded, so that you can witness another approach to introspection. An enormous advantage of this course is an expert interview on introspection with our two excellent guests! Again, both of them were recorded during the process of delivering this course so all the content here is chronological.
To wrap it up again, the entire course is composed of 36 lectures, that is:
Over six hours of videos,
More than twenty short quizzes,
Around eighty section-wrapping questions,
Recorded session with a career adviser,
Interview with experts in the field!
Detailed theory material,

and
Add to it a 50-pages Introspective Writing Workbook that you can start filling up from day one!